TEXT BY SIMON KEANE-COWELL
ZÜRICH, SWITZERLAND
Premium German manufacturer ALAPE, with its innovative approach to design and technology, has been shaping the experience of water in the bathroom since 1896.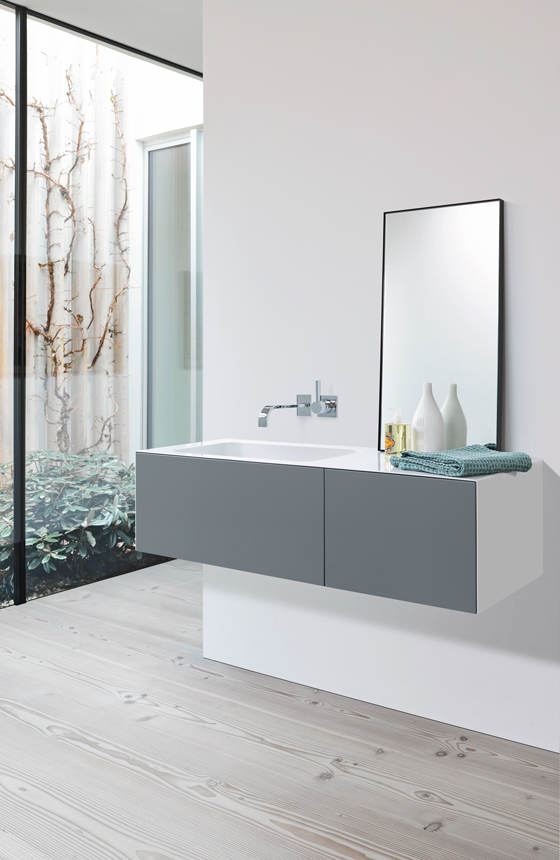 As product types go, the washbasin is probably one of the most legible. Unless you happen to be in an übercool hotel or restaurant toilet, where it sometimes takes all the detection skills of a modern-day Sherlock Holmes to work out where and how to wash your hands, the washbasin communicates its functionality in a fairly clear way. Tap, receptacle, hole for the water to be lead away.
If there's one manufacturer, however, which in spite of the squarely utilitarian nature of the basin has managed time and time again to deliver innovations in its design and production, it's the award-winning German brand Alape. Founded in Saxon town of Penig a couple of years before the turn of the 20th century by Adolf Lamprecht (Alape is a rather neat portmanteau of the first few letters of his name and of the location), the company has proven itself to be a perennial pioneer in its field.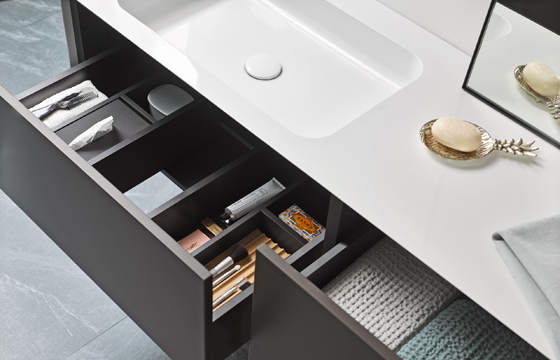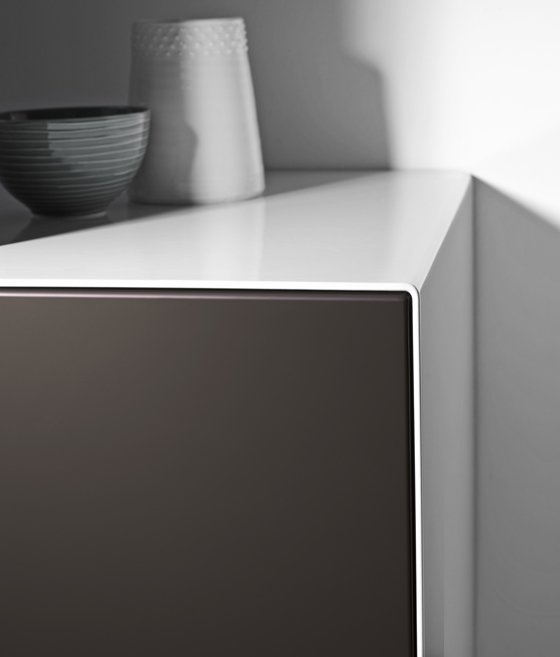 Its many innovations include the 'bucket sink' or multipurpose basin, launched in the 1930s, and the EW3 – the world's first built-in basin produced from enamel steel in 1970. Part of the Dornbracht Group since 2001, Alape today employs over 200 staff across two sites in Goslar, Lower Saxony.
With Folio, its latest product launch, Alape, true to form, harmoniously marries flawless design with leading-edge production technology. The result is a washplace that works, through its archly architectural form, just as hard when it's not in use as when it is. With its highly rational, yet anything but cold, structure, it creates a sophisticated dialogue with the interior-architectural space in which it's installed, indeed serving to help shape that space.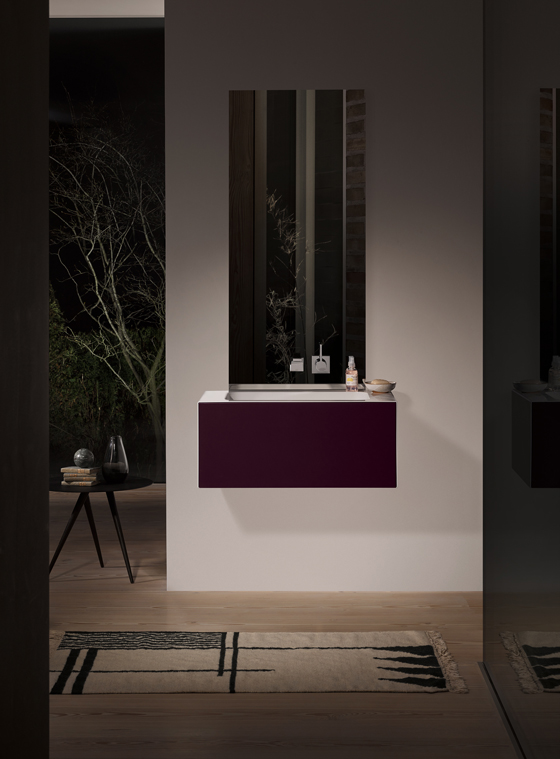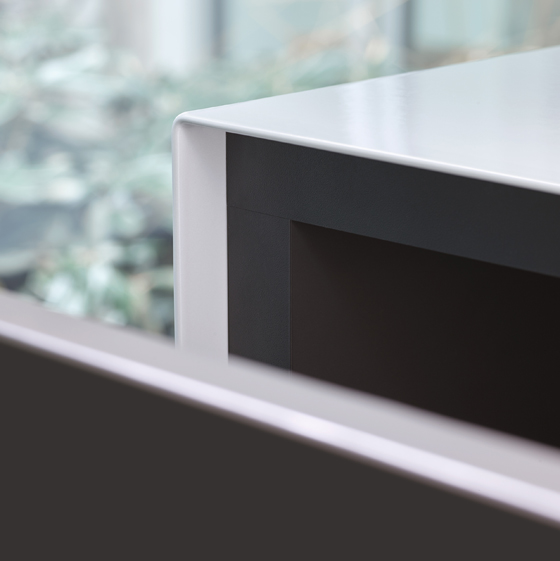 Precise lines, as clean as the face and hands of Folio's users, combined with the tightest of radii and perfectly even surfaces, make for a product that is as strong on geometric aesthetics as it possesses literal strength – Folio, designed by Alape in collaboration with Gerhard Busalt, is the newest product in the Alape collection to be fabricated via its proprietary glazed-steel manufacturing process. Going beyond traditional enamelling, several layers of special glazing totalling a super-minimal 0.3mm, each carefully applied by expert hand, are baked onto titanium-stabilised steel in 830-degree-Celsius heat in several stages. During the process, the glaze and the steel fuse together.
The result? A harder-than-emerald but hugely tactile surface that won't corrode, scratch or discolour. And its non-porosity means, of course, that it's extremely hygienic. And all made in Germany, of course. 'At Alape, we've always sought to improve the way we produce basins made of glazed steel,' explains Daniel Dorgau, Alape marketing manager, 'starting with our own "recipe" of how to combine and mix the different ingredients through to special processes in glazing and firing. This requires a lot of experience, but in the end it's necessary in order to create a truly premium product.'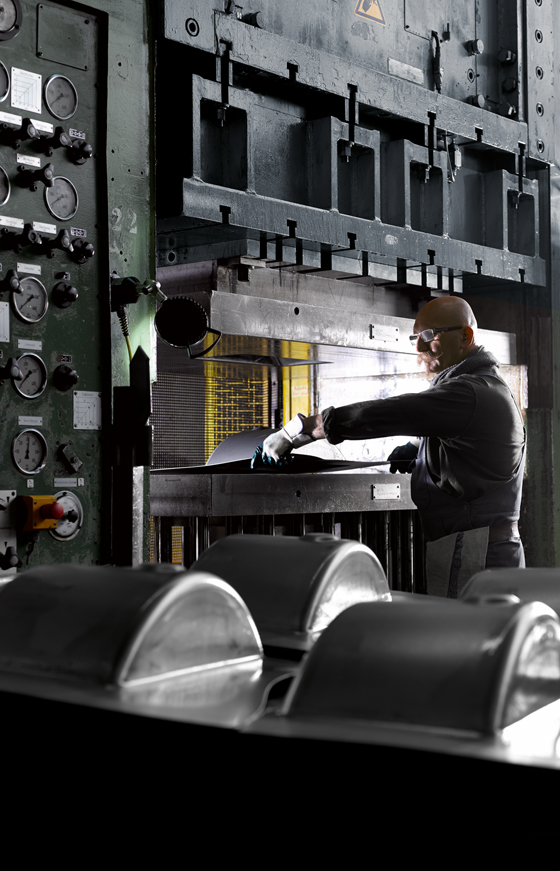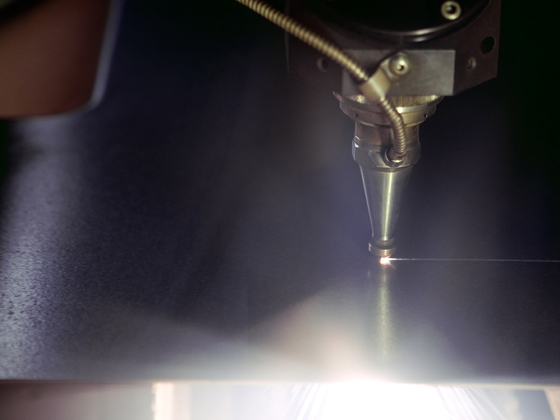 If Folio excels in terms of robustness and longevity, it performs equally strongly in terms of fitness-for-purpose. Not just a basin, it also incorporates a shelf and push-to-open drawers with concealed runners. Internal functionality has also been thought through: dividers, shelves and dispenser boxes optimise storage capacity and flexibility.
Flexibility in term of dimensions and configuration, too. Folio is available in two depths – a 450mm wall-mounted version and a 500mm deck-mounted one – and three widths – 804mm, 1,004mm, and 1,254mm. With the latter option, the washbasin can either be positioned centrally or asymmetrically. Its small dimension
tolerance makes for precision planning for both contract or private projects. 'Our products offer first-rate solutions for architects' and planners' needs,' says Dorgau, 'providing various design options, as well as saving them time and providing them with reliability. They have to be clear, precise and innovative, not only in their outward form, but also down to the smallest detail.'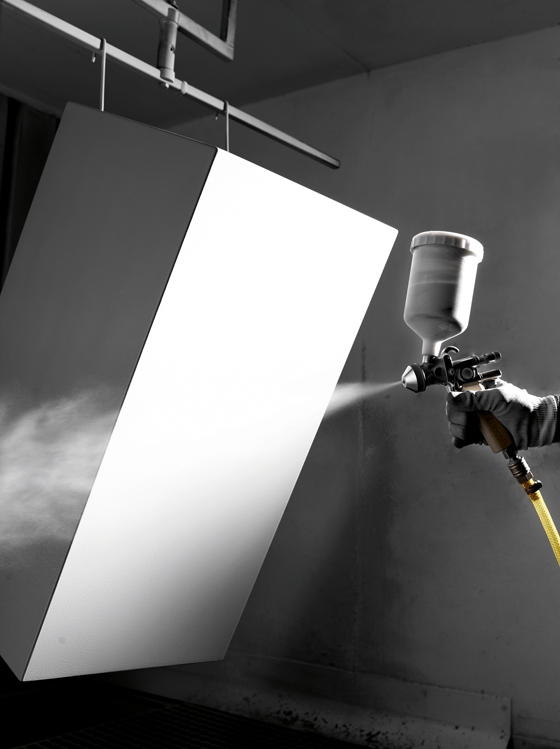 In contrast to the colour-stable, bright-white glaze of the steel body, Folio's furniture component is available in a number of exclusive silk-matt finishes – two neutral hues, Moonstone and Shadow Earth, and two vibrant ones, Grey Fossil and Aubergine. For the contrast-avoiding purists out there, white is also an option.
But whatever the colour, it's ultimately all green. Folio wears its eco credentials with pride. Glazed steel is made from naturally occurring raw materials, is low in carbon, and doesn't contain any substances that are hazardous to nature, such as cadmium, lead or solvents. What's more, it's fully recyclable without any separation needed. The relative lightness of the products that it constitutes also means that less energy is required to transport them. And Alape takes an emphatic 'waste not, want not' attitude to production: once the basin forms are laser-cut from the metal sheet, the offcuts go straight back to their steel supplier for melting down.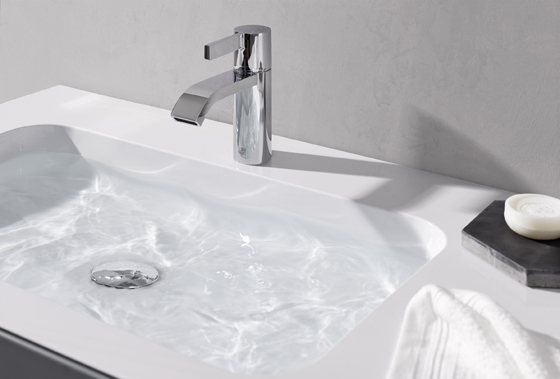 For Alape, glazed steel isn't just a material, it's a source of creative and manufacturing inspiration. Dorgau again: 'The material's characteristics have become a compass for our design, allowing products to take shape that fulfil the basic human needs for cleanliness and aesthetics in equal measure.' Compelling stuff. But, for a company with over 115 years of history, Alape certainly isn't ready to rest on its laurels. The compass may indicate a clear direction, but the journey isn't over. 'Innovation is embedded in Alape's DNA, in our behaviour. We're constantly striving to push materials to their limits and to develop new solutions for architects, interior architects and designers. We want to be an "enabler", inspiring a whole branch, setting trends and allowing our customers to realise their projects perfectly.'
Now, that's anything but wishy-washy.